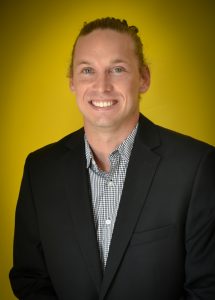 Fort Worth, Texas (August 2020) – Lighthouse for the Blind of Fort Worth happily announces that Daniel Pinkerton has joined the sales team as the Product Development Specialist. Daniel will be responsible for product and contract development with federal, state and commercial opportunities. He will work in conjunction with our partners, Workquest and National Industries for the Blind.
Daniel received both his Bachelor of Political Science and Master of Public Administration from Tarleton State University. "I am excited to be part of the Lighthouse team; I have searched for a nonprofit organization that I can dedicate my education and desire to serve others to. I feel that I have found just that place here and cannot wait to see where we can take this organization." – Daniel Pinkerton
"Daniel's background and varied experiences connect well with his education and potential to bring more skilled and knowledge-based products to the Lighthouse, helping grow the organization's ability to provide jobs and services to the increasing Tarrant county community served by the Lighthouse." – Sean McNeill, Head of Business Development & Sales
#####
Since 1935, Lighthouse for the Blind of Fort Worth has made a life-changing difference in the lives of individuals who are significantly visually impaired by providing skills enhancement, training and employment that empowers them to achieve their highest level of personal, economic self-sufficiency. In addition to Client Services, the Lighthouse's Industrial Division employs individuals who are legally blind to manufacture and package products such as fast pack shipping containers, spiral wound shipping tubes, drug testing devices, targets, optical lenses, and copy paper. Products are available for sale to commercial businesses as well as to local, state and federal government agencies. For more information about Lighthouse for the Blind of Fort Worth or to take a tour of the 80,000 square foot facility located at 912 W. Broadway, contact the Community Development department at 817-332-3341.