Fort Worth, Texas (January 7, 2019) – Lighthouse for the Blind of Fort Worth, a nonprofit that provides blindness rehabilitation services and employment for people who are visually impaired, decided to join the 'Bird Box' Challenge frenzy, but not in the way you may think. After watching the movie, seeing the viral challenge and hearing Netflix's plea for people to not hurt themselves with the #BirdBoxChallenge, Lighthouse employee, Rebecca Smith, thought it would be a great opportunity to educate people and raise blind awareness within the community.
On Thursday, January 3rd, Rebecca took to social media with the following post: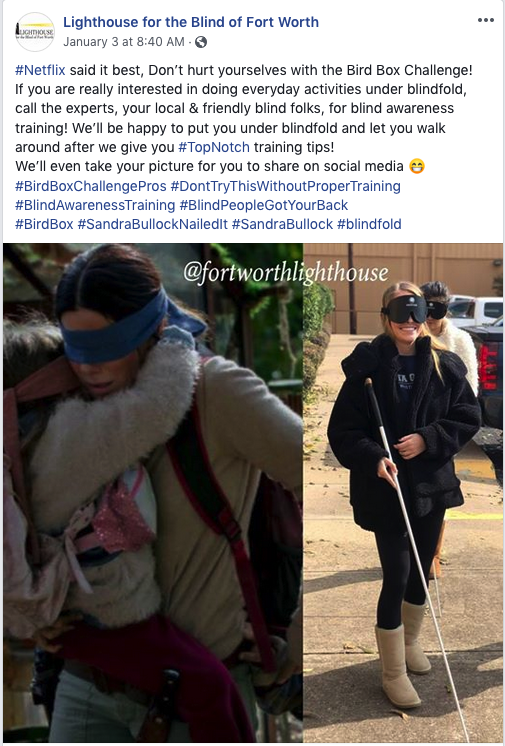 The post on Facebook, Instagram and Twitter has a photo of Sandra Bullock carrying Girl while under blindfold next to a Lighthouse volunteer learning to use a white cane under blindfold and reads, "#Netflix said it best, Don't hurt yourselves with the Bird Box Challenge! If you are really interested in doing everyday activities under blindfold, call the experts, your local & friendly blind folks, for blind awareness training! We'll be happy to put you under blindfold and let you walk around after we give you #TopNotch training tips!
We'll even take your picture for you to share on social media.
#BirdBoxChallengePros #DontTryThisWithoutProperTraining #BlindAwarenessTraining #BlindPeopleGotYourBack #BirdBox #SandraBullockNailedIt #blindfold
Within 30 minutes of the posting, the phone at Lighthouse for the Blind of Fort Worth began ringing – people were loving this approach on blind awareness and it even caught the attention of local tv news stations. Sebastian Robertson from WFAA 8 arrived shortly after the post was made for his very own blind awareness training and to learn more about their take on the challenge. (You can view his story here: WFAA – Lighthouse). Over the last few days the post has been shared over 150 times and reached more than 20,000 people across Facebook, Instagram and Twitter.
"Please know, it's not safe to place yourself under blindfold without the proper training," says Rebecca Smith "but if you are going to do this, please let us teach you the necessary skills to prevent injuries!" Lighthouse for the Blind of Fort Worth welcomes everyone to come out and experience their "eye-opening" Blind Awareness Training, free of charge! The course is designed to help sighted people better understand how someone who is visually impaired adapts to their disability. Lighthouse Client Services Professionals place participants under blindfold and educate them on ways in which those with low vision use equipment, white cane travel and daily living aids to facilitate independence in their day to day lives.
If you would like to schedule Blind Awareness Training, contact Client Services at clientservices@lighthousefw.org or call 817-332-3341.
For media coverage, please contact Rebecca Smith at rsmith@lighthousef.org or 817-332-3341. "We would love for all our local media outlets to come out for a safe 'bird box' challenge experience!"
Follow Lighthouse for the Blind of Fort Worth online at: